MarkMyGCSE: Instantly Grade Your GCSE Past Papers
Are you tired of endlessly doing past papers with no feedback or guidance on how to improve? Do you feel too shy to ask your teacher to grade your work every time? Well, we've got some exciting news for you!
Introducing MarkMyGCSE, the free online tool that marks your GCSE papers and provides you with instant feedback on your performance.
With MarkMyGCSE, you no longer have to struggle in silence or feel lost and helpless when it comes to preparing for your exams.
Let's take a closer look at MarkMyGCSE and show you how it works, what makes it such a valuable tool for GCSE students, and how you can get the most out of it. We'll also share feedback from other students who have already tried it out during its testing phase, so you can get a sense of the kind of impact it can have on your exam skills.
So if you're ready to stop feeling lost and start getting the feedback and support you need to succeed in your GCSE exams, keep reading and discover why MarkMyGCSE is the tool you've been waiting for!
How MarkMyGCSE Works
Before you can receive feedback on your paper, you'll need to submit it to MarkMyGCSE so read on. If you prefer watching a video, here:
Creating an account and logging in
The first step is to create an account on the Edumentors website. Once you've created your account, you can log in and start submitting your papers.
Selecting the exam and paper type
Next, you'll need to select the exam and paper type that you want to receive feedback on. Currently, MarkMyGCSE only works for English Language and English Literature papers, but the team is working on adding support for other subjects as well.
Uploading your paper
To ensure proper grading of your paper, use the same numbering scheme as the exam paper (e.g., "1.1" or "1(a)") and/or clearly state which question you have chosen if given a choice. Please note that papers should be typed and not hand-written.
To submit your paper, simply upload it to the MarkMyGCSE page. You'll need to make sure that your paper is in a format that is compatible with the tool (e.g. a Word document).
Marking process
Once you've submitted your paper, MarkMyGCSE uses AI to mark it and provide you with feedback. Note that MarkMyGCSE can only mark up to three papers during the 24 hours period.
How MarkMyGCSE uses AI to mark your paper
MarkMyGCSE uses advanced AI algorithms to analyse your paper and provide you with detailed feedback. The tool takes into account a wide range of factors, including grammar, vocabulary, sentence structure, and more.
How long it takes to receive your feedback
The amount of time it takes to receive your feedback depends on how many papers are being processed at any given time. However, you can typically expect to receive your feedback within a few seconds to a few minutes.
What kind of feedback you can expect to receive
When your paper has been marked, MarkMyGCSE will provide you with a detailed feedback report that highlights areas of strength and weakness. The report includes a score for your paper, as well as detailed feedback on things like grammar, spelling, punctuation, analytical skills and more, based on the mark scheme of that paper.
Reviewing your results
Once you've received your feedback report, it's time to review your results and identify areas of improvement. Here's how:
Understanding your feedback report
Your feedback report will include detailed feedback on every aspect of your paper, including things like grammar, punctuation, and vocabulary. Use this feedback to identify areas where you need to improve.
Identifying areas of strength and weakness
As you review your feedback report, pay attention to the areas where you did well, as well as the areas where you need to improve. This will help you create a targeted study plan that focuses on your specific needs.
Using your results to improve
Finally, use the feedback you've received from MarkMyGCSE to improve your exam skills and boost your confidence. Here's how:
Creating a study plan based on your feedback
Utilise your feedback report to develop a study plan that concentrates on the areas where you need to enhance your understanding. This could entail practicing particular question types that you performed poorly on in the previous paper.
Tracking your progress over time
As you work on your exam skills, use MarkMyGCSE to track your progress over time. This will help you see how much you've improved and where you still need to focus your efforts.
Re-submitting your paper to see how you've improved
Finally, consider re-submitting your paper to MarkMyGCSE after you've worked on improving your skills. This will allow you to check your improvement
Advantages of Using MarkMyGCSE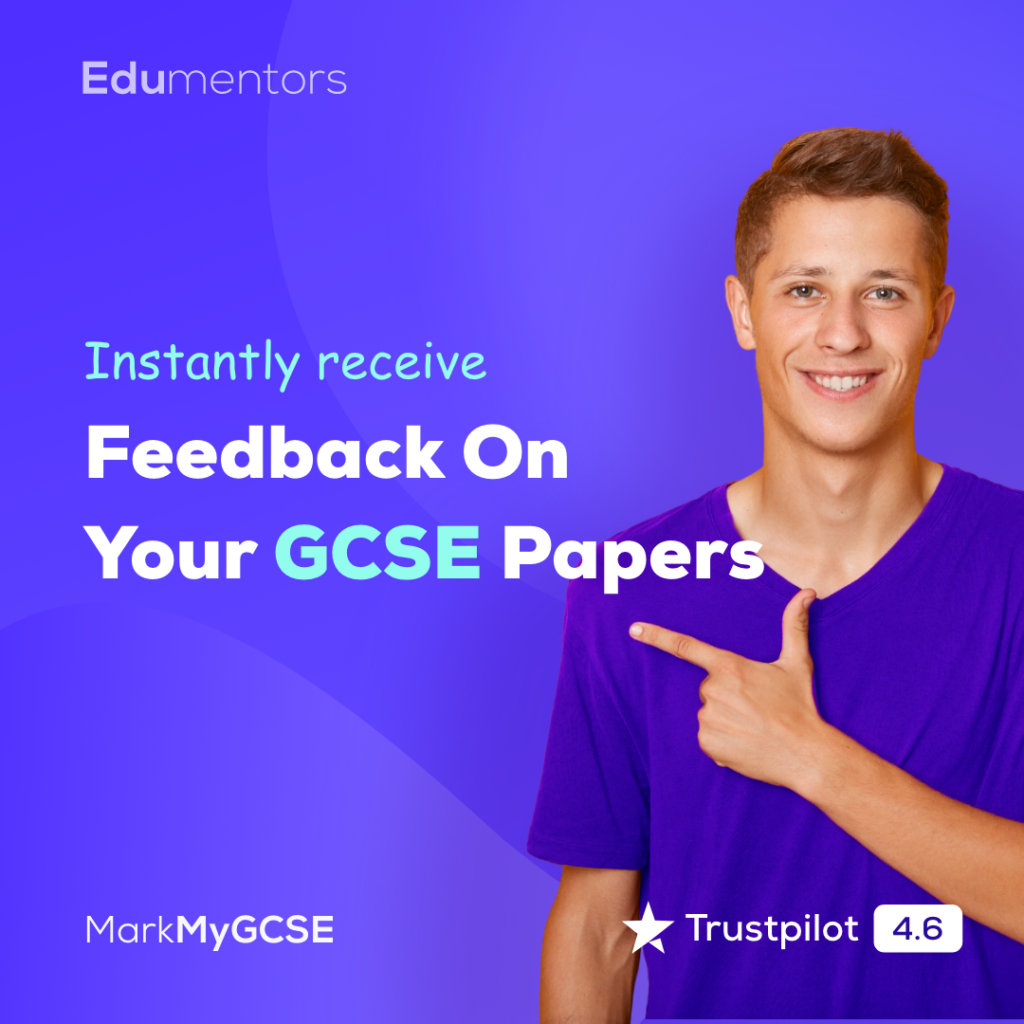 Here are some potential advantages of using MarkMyGCSE:
Instant feedback
MarkMyGCSE provides instant feedback on your performance, allowing you to see your strengths and weaknesses right away. This can help you identify areas where you need to improve and adjust your study plan accordingly as soon as possible.
Customised recommendations
The tool provides tailored feedback based on your answers, highlighting specific areas where you can improve. This can help you focus your efforts on the areas where you need the most help.
Time-saving
MarkMyGCSE can save you time by automatically marking your papers for you. This means you can spend more time focusing on your studies and less time grading your own work.
Confidence-boosting
Knowing where you stand in terms of your GCSE preparation can help boost your confidence and reduce exam anxiety. MarkMyGCSE can give you a better understanding of your strengths and weaknesses, helping you feel more prepared and confident on exam day.
Convenient and accessible
MarkMyGCSE is a free online tool that you can use anytime, anywhere. This means you don't need to rely on your teacher or tutor for feedback, and you can access the tool from the comfort of your own home.
Feedback From Users
We wanted to share some feedback from users of MarkMyGCSE to give you a better understanding of how the tool can be helpful in achieving success on your GCSE exams. Here are a few testimonials from students who used this tool during the testing process:
"My brother is having GCSE exams this year and as an older sister who has already been through this, I decided to check out MarkMyGCSE. I submited my old essay and in an instant, I got the feedback that was extremely close to what I did at my GCSE exam."
"I'm generally a confident student, but sometimes I struggle with exam anxiety, like A LOT. MarkMyGCSE helps me feel more prepared and less anxious by giving me instant feedback on my performance. It's such a valuable tool!"
"I'm always too shy asking my teacher for feedback, so MarkMyGCSE has been a great alternative for me. I appreciate the feedback and the ability to use the tool on my own time. I'm not sure if three times a day is enough though" - (The team is working on that, btw)
Tips for Getting the Most out of MarkMyGCSE
While MarkMyGCSE is a powerful tool for improving your GCSE exam performance, there are a few things you can do to make sure you're getting the most out of it. Here are some tips to keep in mind:
Type out your papers
MarkMyGCSE uses artificial intelligence to grade your papers, so it's important that your responses are typed out, not handwritten. This will help ensure that the tool can accurately assess your work.
Number your questions correctly
Make sure that you number your questions in the same way they were numbered on the exam paper. This will help ensure that the tool can accurately grade your responses.
Choose the correct options
If a question has several options to choose from, make sure you select the correct one. The tool will be looking for specific answers, so it's important to choose the right option.
Use MarkMyGCSE multiple times
You can use MarkMyGCSE up to 3 times in a 24-hour period. Take advantage of this by using the tool to mark multiple practice papers. This will help you get a better sense of your strengths and weaknesses and improve your overall performance.
Edumentors GCSE Mocks
In addition to using MarkMyGCSE to improve your exam performance, you may also find it helpful to participate in mock exams and simulations. Edumentors offers free online GCSE mock simulations every week, giving students the opportunity to practice their exam-taking skills in a supportive environment.
If you're feeling overwhelmed or just need a little extra practice, signing up for Edumentors' GCSE mock simulations can be a great way to get the support and feedback you need. The simulations are designed to replicate the actual exam experience as closely as possible, helping you get comfortable with the format and timing of the test.
Best of all, the simulations are completely free to join. All you need is a computer and an internet connection. And when used in conjunction with MarkMyGCSE, they can be a powerful tool for improving your exam performance and boosting your confidence.
Conclusion
In conclusion, MarkMyGCSE can be an incredibly useful tool for anyone preparing for their GCSE exams. With its ability to provide instant feedback and pinpoint areas for improvement, it can be a game-changer for students looking to boost their performance and confidence on exam day.
But MarkMyGCSE is just one tool in the arsenal of anyone preparing for their GCSEs. It's important to also take advantage of other resources available to you, whether it be mocks, or other GCSE resources. By participating in these simulations, you'll be able to practice your exam-taking skills in a realistic and supportive environment, and get a better sense of what to expect on test day.
Whether you're a student, parent, or teacher, take advantage of this free tool! With these tools at your disposal, you'll be well on your way to success on your GCSE exams.
So what are you waiting for? Head over to Edumentors.co.uk to learn more and sign up today. Your future self will thank you!
---