Table of Contents:
AQA
Paper 1 (7357/1)
Paper 2 (7357/2)
Paper 3 (7357/3)
OCR
Paper 1 Pure Mathematics (H240/01)
Paper 2 Pure Mathematics and Statistics (H240/02)
Paper 3 Pure Mathematics and Mechanics (H240/03)
Pearson Edexcel
Paper 1 – Pure Mathematics 1 – 9MA0/01
Paper 2 – Pure Mathematics 2 9MA0/02
Paper 3 – Statistics and Mechanics – 9MA0/3
Paper 31 – Statistics – 9MA0/31
Paper 32 – Mechanics – 9MA0/32
FAQ About A-level Maths and A-level Maths Papers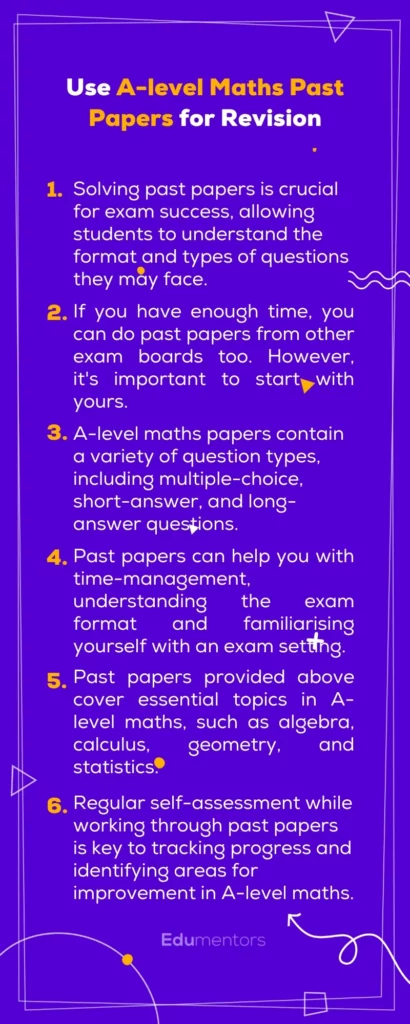 How is A-level Mathematics Assessed?

A-level mathematics is typically assessed through written exams, which are taken at the end of the course. The exams may consist of a combination of multiple-choice questions, short-answer questions, and long-answer questions that require written solutions. Some courses may also include coursework, which is a written or practical assignment that is completed during the course and assessed by the teacher. The final grade for A-level mathematics is based on the results of these assessments and is usually reported as a numerical grade (such as A*, A, B, etc.) or as a percentage score. The specific assessment method and grading scale can vary depending on the examination board and the individual school or college.
What Topics are Covered in A-level Mathematics?

A-level mathematics typically covers a wide range of topics, including:

Algebra: including expressions, equations, functions, and graphs
Calculus: including differentiation, integration, and applications
Coordinate geometry: including points, lines, and circles
Sequence and series: including arithmetic and geometric series
Trigonometry: including angles, ratios, and identities
Vectors: including vector algebra, dot products, and cross products
Probability and statistics: including descriptive statistics, probability distributions, and hypothesis testing
Further mathematics: including complex numbers, matrices, and groups.

The specific topics covered in A-level mathematics can vary depending on the examination board and the individual school or college. Some courses may also include optional units, such as mechanics or discrete mathematics, that allow students to specialize in areas of particular interest.
How Difficult is A-level Mathematics Compared to GCSE Mathematics?

A-level mathematics is generally considered to be more difficult than GCSE mathematics, as it covers more advanced topics and requires a deeper understanding of mathematical concepts and methods. However, the level of difficulty can vary depending on a number of factors, such as the student's prior knowledge and experience, their learning style, and the specific examination board and course they are following.

Compared to GCSE mathematics, A-level mathematics requires a greater level of independent study, as well as a stronger ability to apply mathematical concepts and methods to real-world problems. Students are also expected to have a higher level of mathematical fluency, including the ability to manipulate algebraic expressions, solve complex equations, and perform complex calculations with confidence.
Is A-level Maths a Requirement for Certain University Courses or Careers?

A-level mathematics is not a requirement for all university courses or careers, but it is highly valued by many universities and employers. In particular, A-level mathematics is often a requirement or preferred qualification for courses and careers in fields such as engineering, science, finance, technology, and mathematics.

For example, many universities in the UK and other countries require A-level mathematics for admission to courses in engineering, physics, computer science, and economics, among others. Similarly, many employers in finance, technology, and other quantitative fields look for candidates with a strong background in mathematics, including A-level mathematics.

That being said, the specific requirements for admission to university courses or for certain careers can vary depending on the institution or employer, so it is important to research the specific requirements for your desired field.
Can You Do A-level Maths Past Papers from Other Exam Boards?

Yes! Doing past papers from other exam boards can be a useful way to get a sense of the different types of questions that may appear on your exams and to practice applying the mathematical concepts and methods you have learned in a new context.

It is important to keep in mind, however, that the content and format of the exams may vary between exam boards, so you should make sure that you are familiar with the specific requirements and guidelines of your own exam board before you begin working on past papers from other exam boards.
What's the Best Way to Revise for A-level Maths?

The best way to revise for A-level mathematics will vary depending on the individual student's learning style and needs, but here are some tips that are generally considered effective for A-level mathematics revision:

Practice, practice, practice: Doing past papers and sample questions is one of the best ways to prepare for the A-level mathematics exams. This allows you to become familiar with the types of questions that are likely to appear on the exams, as well as to practice applying the mathematical concepts and methods you have learned.
Make use of revision guides and textbooks: Supplement your practice with revision guides and textbooks that provide a clear and concise summary of the key topics in A-level mathematics. Use these resources to reinforce your understanding of the concepts and to fill any gaps in your knowledge.
Use online resources: There are many online resources available for A-level mathematics revision, including websites, videos, and interactive simulations. These resources can be useful for visualizing mathematical concepts, exploring new topics, and practising problem-solving.
Get help from others: Consider joining a study group or seeking help from a teacher or an A-level maths tutor if you are struggling with a particular topic in A-level mathematics. Collaborating with others can help you to understand difficult concepts more easily and to get feedback on your work.
Create flashcards: Create flashcards with key terms, formulas, and problem-solving techniques to help you memorise the important information you need to know for the exams.
Manage your time effectively: Create a revision schedule and stick to it, making sure to allocate enough time to each topic and to give yourself regular breaks.

Remember, the most important thing is to find a revision approach that works best for you and to stay motivated and focused on your goals.
---