The Benefits of Online Tutoring
Table of Contents:
Why Consider Tutoring for Your Child?
If you are a parent who tries to help your child at school but nothing seems to work, you are not alone! Sometimes, children just do not listen to their parents, no matter how interesting their lessons are. Schools might not help either. There is a shortage of teachers in the UK and some schools even hire non-professionals to teach. This makes it harder for children who already struggle in school to achieve their best, especially after the pandemic.
Covid-19 has resulted in students missing out on large sections of the curriculum, leading to low self-esteem and anxiety in lessons due to this learning loss. Parents could not hire in-person tutors during a lockdown, hence, online tutoring came into play. After that, it got more and more accepted and popular and parents realised that online teaching can be even more effective than face-to-face teaching if done correctly!
Private tutoring can help to bridge this gap in knowledge in an engaging and compelling way. Great tutors can give students a much-needed boost in confidence and help to improve their grades.
What Tutoring Options are there?
The most popular type is face-to-face tutoring. Whey may come to your home to tutor or invite you to their office/home. They are usually more expensive than online ones, but some children find it easier to concentrate and understand with in-person tutoring. However, many parents and students are turning to online tutoring as a solution. This has become the latest trend in education, more so after the Covid-10 hit. Online tutors are more often used by parents to provide extra support for students who need additional help.
✏️ "Education was adapting to the digital world long before Covid but, as with so many other human activities, the pandemic has given learning a huge shove towards the virtual." – Laura Spinney, Guardian.
There is also group tutoring as an option. You can find them both online and in person. This kind of tutoring allows students to share strategies for learning, learn from one another and build confidence. However, it's not always helpful since it's impossible to tailor a lesson to everyone. Group tutors don't have flexibility like private tutors have.
Why Choose Online Tutoring?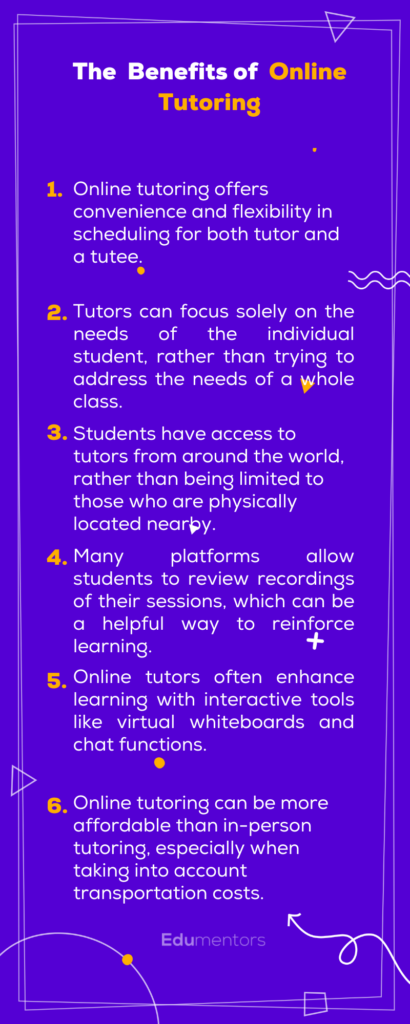 Tutoring has many benefits, but why exactly should you go for online tutoring?
There are many benefits of learning online, such as:
💡It Can Be Done Anytime, at Any Place
Due to it being online, the tutoring can be flexible and easy for both tutor and tutee to do anywhere, at any time. Children can study even on the holiday, during vacations and etc.
This also means that tutoring doesn't have to interfere with school or extra-curricular activities or hobbies either!
💡Scheduling is Easier
Finding the time for even an hour-long tutoring session can be hard in this fast-paced world. Since none of the parties involved needs to even leave the house, it gets more comfortable to schedule lessons. Students can even have several sessions back to back without worrying about getting to a session on time.
💡Students Can Learn at Their Own Pace
There is no external pressure from the curriculum or other students. Tutors don't have to rush through content that's difficult or spend too long on topics the student finds easy. The tutoring is tailored to the child, ensuring it is always moving at the right pace and set at the right level. This is one of the most important benefits of tutoring, in general.
💡Students Can Benefit from Self-Guided Learning
Receiving online tutoring forces students to take more responsibility for their own learning. Tutors can't control the learning environment of the child. Hence, they sometimes can't see if the child is doing something else. This can help children to learn how to be productive without relying on others (teachers, tutors, parents etc).
💡It Can Be More Cost-Effective Than Regular In-Person Tutoring
By cutting out the travel and convenience costs, online tutoring can be the most affordable and efficient form of educational support available to students. However, don't expect all online tutors to be accessible. They don't spend any less effort and time to make a lesson interesting. However, affordable online tutoring is easier to find!
💡There are Plenty of Tutors to Choose From
Rather than being limited by those available locally, parents are able to choose from a pool of tutors from the country's best universities. This can ensure that their child receives the best possible education and support available to them. Some expert tutors live in their students' halls and don't even have an option of face-to-face tutoring.
💡Online Lessons are Fun and Engaging
Online tutors know how to use technology to their advantage. As a result, they are able to create interesting and engaging lessons that children will love, not just endure!
There are many tools and technologies that can be useful for online tutoring. Some common tools and platforms used for online tutoring include:
📌 Video Conferencing Software
Tools such as Zoom, Skype, and Google Meet allow tutors and students to connect and communicate in real time via video and audio. These tools often also have features such as screen sharing, which can be useful for demonstrating concepts or working through problems together.
📌 Collaborative Whiteboard Tools
Online whiteboards such as Miro, Jamboard, and Aww allow tutors and students to work together in real-time on a virtual whiteboard. These tools can be useful for brainstorming, diagramming, and problem-solving.
📌 Learning Management Systems (LMS)
LMS platforms such as Canvas, Blackboard, and Moodle provide a centralized hub for online courses and tutoring sessions. These platforms often include features such as online quizzes, forums, and assignment submissions, which can be useful for more structured tutoring sessions.
📌 Digital Tools for Writing and Editing
Tools like Google Docs and Grammarly allow students and tutors to collaborate on written assignments and provide feedback in real time.
📌 Virtual Tutoring Platforms
There are many online platforms that connect students with tutors for one-on-one or group tutoring sessions. These platforms often have their own built-in tools and resources for tutoring, such as virtual classrooms and messaging systems.
It is important to choose the tools that work best for your specific needs and goals as a tutor or student. It may be helpful to try out a few different tools and see what works best for you.
What Should You Consider When Using Online Tutoring Platforms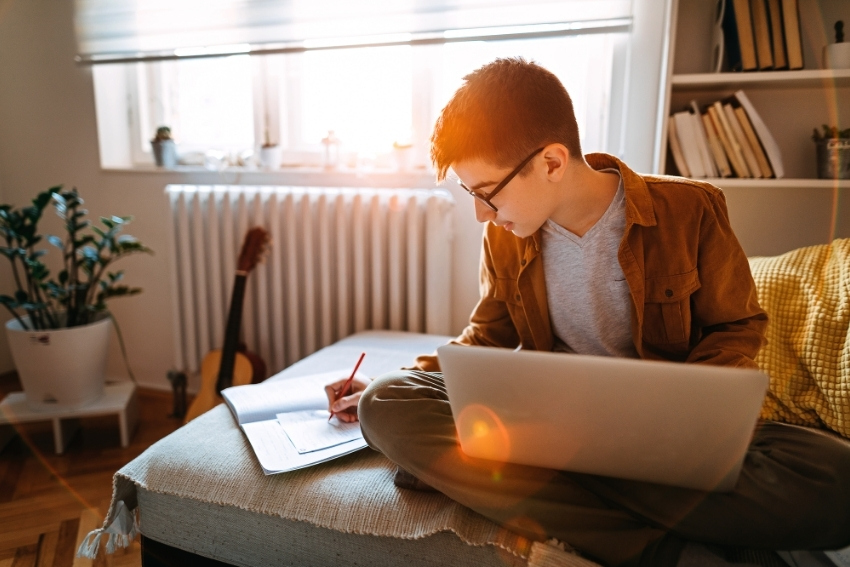 📌 Quality of the Service
It is important to do some research and read reviews to find a reputable and effective online tutoring service. Look for services that have qualified and experienced tutors, and that offer a variety of subjects and learning resources.
📌 Compatibility with Student's Learning Style
Different online tutoring services may have different approaches to teaching and learning. It is important to find a service that aligns with a tutee's learning style and needs.
📌 Cost
The cost of online tutoring can vary widely. It is important to compare prices and consider your budget before committing to a service. Some are more expensive and some are more affordable. Weigh your options carefully.
📌 Scheduling
Online tutoring services may offer different scheduling options, such as scheduled sessions or on-demand help. Consider what works best for your schedule and needs.
📌 Technology
Online tutoring requires a stable internet connection and a device with a microphone and camera. Make sure that your child has the necessary technology and knows how to use it before starting a tutoring session.
📌 Privacy and Security
Make sure the online tutoring service you use has appropriate measures in place to protect your privacy and security, such as secure communication channels and confidentiality agreements for tutors.
📌 Expectations
It is important to have clear expectations and goals for your tutoring sessions and to communicate these to your tutor. This will help your child get the most out of your tutoring experience.
What Makes a Good Online Tutor?
The online tutor should have a good understanding of the student's needs, their educational level and their current learning environment. A good tutor will be passionate about their subject and able to communicate this passion to the student. The learning material is the same with every tutor, it's about how they explain it.
✏️ "Research has demonstrated that engaging students in the learning process increases their attention and focus and motivates them to engage in higher-level critical thinking." – University of Washington.
A suitable tutor should have the skills to make the lesson interesting, engaging and easy to follow. All students learn at different paces and with different teaching methods. They must ensure that they make the most of the student's pre-existing strengths and preferences. A good tutor can teach children studying hacks and revision methods that are fitting to their learning style.
The tutor should also be able to spot any potential issues that may be standing in the way of the student's progress. If it's appropriate and agreed upon by the parent and tutor, they may set homework to aid the student's learning. This should not be too time-consuming or difficult for the student. At the beginning of the tutoring, some tutors may choose to provide a short test to help assess what level the student is at and where they need to improve. This can help the tutor to tailor their sessions to the student's individual needs.
It is important that the tutor gives the student some feedback and helps them to reflect on what they have learnt in the sessions so far. This will help to motivate the student toward their studies and exams, as well as allow them to track their own progress and be aware of their own strengths and weaknesses.
How to Find an Online Tutor?
You can find online tutors on social media. Join Reddit communities like r/tutor or find Facebook groups of parents. Tutors can also be found by word of mouth. You can ask your friends or your child's teachers for recommendations. However, the most convenient way to find an online tutor is through online tutoring services
Most companies will allow parents and students to meet with the tutor for a free introductory session before booking lessons. This allows the student, tutor and parent to all feel confident that everyone is on the same page and knows what the aims are. During these meetings, the discussion should centre around the student's needs, goals and how the tutor can help with these. From here, if it's a good fit, the parent can book some lessons and the tutoring can begin.
Take the first step towards exam success and academic confidence by booking a free session today at Edumentors.
If you learned something new from this article, feel free to share it with other parents. You never know how much one might need help!
---